I attended my first wedding in China this weekend. My friend Betsy married in Hefei in a type of ceremony that's becoming common among young people: it keeps a few old traditions but otherwise is an amalgam of photo orgy, game show and huge feast. Chinese weddings are highly informal for the guests, most wearing the same kind of clothes they'd wear to go to a market or the park. The groom, however, is tuxed up, and the bride might change into three different types of dresses. (Betsy started out with a Western-style wedding gown and then switched to a red gown when the time came for toasting.) An emcee is hired to host the wedding. In this case it was a man, who spoke into a booming microphone. There seems to be a standard order of "rituals" that take place. First, the couple walk in and are introduced. (All the while there is music playing loudly, music that's unrelated to weddings.) They then bow deeply to the entire collected audience. Then they bow deeply to their parents, who are seated at the head table. Then, they turn and bow deeply to each other.

The bowing finished, they pick up a kind of Roman candle, which when lit burns intensely bright. They use it to light the "candle of love." After this they move to another area and pour a bottle of champagne into a series of cups. I asked the woman next to me, an English teacher who lives in Nanjing, if we'd get to drink any of it. No, she informed me, it's just for show. Meanwhile, all our tables had one bottle of wine upon it. But it could not be opened until it was time for toasting at the end of the dinner!! So, we ate a large dinner without the benefit of wine. The couple exchanged rings after the champagne pouring, after which they walked back down the way they'd walked to the front of the room, then turned around and walked back. (Not sure what that was for.) And that was it. They then sat down to eat at the head table. Betsy went to change into her red gown at one point, and then she and her husband and their parents moved around the tables to toast the guest. They were drinking baijiu, the high-alcohol spirit popular in China. Most guests toasted with soft drinks , a few with wine. I would imagine that Betsy was quite hammered by the time she drank all that baijiu. The entire affair was done in less than two hours. And, no, there was no dance and no band. There was, however, sushi, turtle, roast pork leg, shrimp, chicken, tripe, beef and many more dishes served at each table. Here are some photos. Click on Read More to see them all.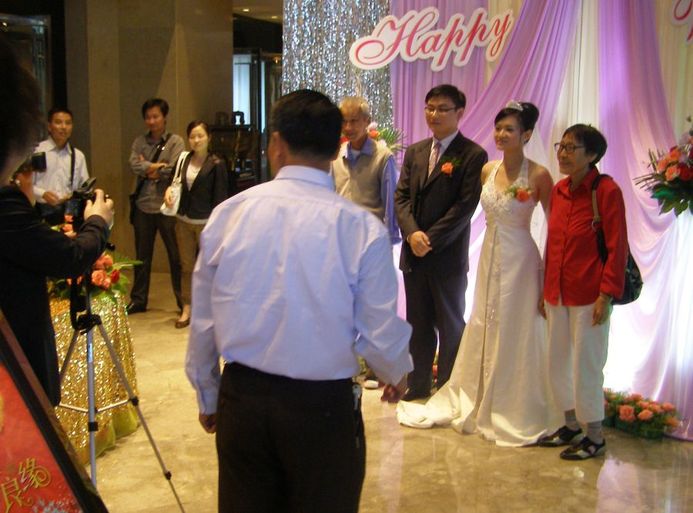 The bride and groom arrive a couple hours early and stand outside the banquet hall to greet guests and, of course, to have a picture taken with each of them.