I recently spent three weeks in Vietnam for work and play. I landed in Hanoi and went to the famed Halong Bay, then flew to Danang in the central part of the country. From there I took a train to Hue, the nation's former capital before the French colonized the country. From there I went farther north to Quang Tri Province, which is where the DMZ (demilitarized zone) was during the Vietnam War.

Despite the horrendous legacy of war left by the U.S. -- millions of pounds of unexploded bombs and Agent Orange contamination that's still causing birth defects in the third generation born since it was dumped there by America -- the Vietnamese seem to have genuine warm feelings about America and Americans. They kind of view it as a moment of madness by the United States.

Too many pictures follow the jump. You've been warned.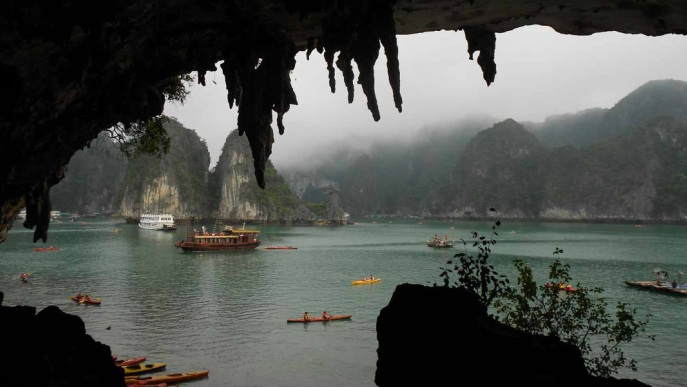 Our boat took us to an enclosed harbor deep in Halong Bay that had several huge caves. I took this photo from inside one of them. We kayaked around this area.


This video shows some folk dancing that was part of a festival in Hue, Vietnam, in April. The last part of the video is a pedicab ride I took over the Perfume River in Hue. This gives you a little sense of what it's like to be on the road in a small Vietnam city. A few seconds into the video a pedicab passes on the left, which looks exactly like the one I was riding.